While doing an update of the AVG Antivirus Free Edition to version 9.0, I got an unexpected registry error:
Local machine: installation failed
Installation:
Error: Action failed for registry key HKLM\SOFTWARE\Microsoft\Windows NT\CurrentVersion\Windows: creating registry key….
Error 0x80070005
Googling the problem offered me lots complex solutions with varying results, however I found a very easy solution on how to fix the issue:
Download the AVG Remover tool for either 32 bit Windows or 64 bit Windows
Run the AVG Remover tool to uninstall the current version of AVG, it will require restart.
Download the Dial-a-Fix tool.
Run the Dial-a-Fix tool and hit the button with the hammer icon (see screenshot below).
In the dialog locate and select Repair Permissions in list and hit the GO button (see screenshot below).
Let the tool do its magic.
Download the new version of AVG – AVG Download Manager or Full Installation Package (100+Mb)
Run installation of AVG, it should complete with success.
Enjoy!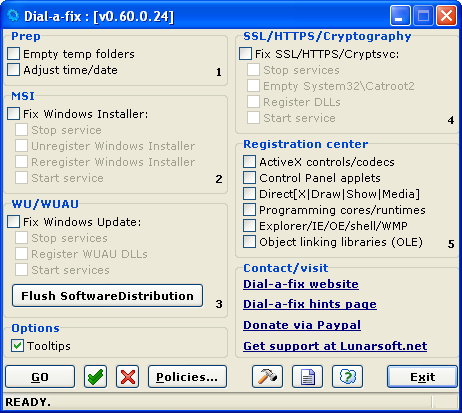 .