UPDATE: The iPoker theme has been changed a lot lately, and I have actually also decided to change the name of it. Now, it goes under the name "myPoker". The new myPoker WordPress Theme is available here very soon. Let my known if you like the new look better?
The iPoker WordPress Theme is perfect choice for poker players with the desire of telling the world about their winnings, great hands, bad beats, etc. If you have a poker site powered by WordPress, you should try this new theme.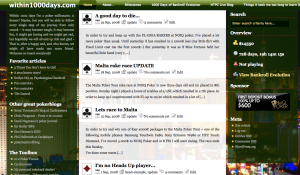 The theme is enabled with WordPress Widget support in both the left and right column, making it very flexible to place your sidebar content using widgets. The WordPress Blog Search is also enhanced with Ajax Live Search featuring searching while writing. The theme is of course developed both with valid XHTML and CSS according to W3C Standards
DONATE
The theme will be improved continuously, and if you are using the theme you are more than welcome to comment on the theme – opinions, bugs, improvements and new ideas are always welcome…
If you take this theme into use, you are advised to make a donation due to support and further development of the theme, and as in poker the donations are, of course, no limit donations!
In advance, thank you for donating!
DOWNLOAD
The theme is licensed under the CC 3.0 license.
Download iPoker WordPress Theme (.ZIP) [784Kb]
KNOWN ISSUES
The theme uses transparent PNG images, which are not supported in Internet Explorer 6.0 and earlier version of this fabulous browser.
CONTRIBUTION
What made this theme easier to make…
Sponsored Link: