The WordPress Theme myPoker is the perfect theme for poker players using WordPress to blog about their winnings, great hands, bad beats, or simply poker in general. The myPoker theme is made for blogging poker players like the poker millionaire project at within1000days.com (live demo).
[ad code=1 align=left]
The theme is enabled with support for two WordPress Widget columns, making it very flexible to place your sidebar content using widgets or affiliate and rakeback advertisements. The WordPress Blog Search is also enhanced with Ajax Live Search featuring searching while writing. The theme is of course developed both with valid XHTML and CSS according to W3C Standards.
The WordPress Theme iPoker is actually the first version of the the later theme called myPoker (see above).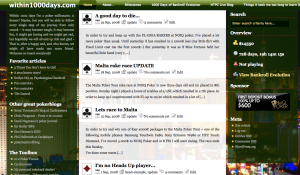 Note: No support and further development will be applied to this theme.