If you like me would like to have the opportunity to watch digital HD TV on your Mac, here is my recommendations. Recently I bought a product from Elgato, namely the Elgato EyeTV Hybrid, which I am actually quite satisfied with.
Elgato EyeTV Hybrid
EyeTV Hybrid is an all-in-one TV USB stick for your Mac, including DVB-T, DVB-C, Analog TV & FM-Radio tuner. Even though it is quite small, it contains a full-size and built-in coaxial plug and does not require an adapter to connect cable or an aerial. The EyeTV Hybrid also comes with a composite (RCA) and S-Video break-out cable to connect a variety of devices to your Mac, such as a set top box for premium channels and satellite, a VCR, or a Camcorder.
EyeTV Hybrid can record digital TV in the  full quality digital content as encoded by the broadcaster. The included EyeTV 3 software lets you watch and timeshift live television on your Mac. Record, subscribe to TV series, and create Smart Playlists. Edit unwanted content and send your favorites to iTunes to sync automatically. Recordings can be share over a local network with other Macs and accessing them on an iPod or iPhone via Wi-Fi.
Feature summary:
Watch, rewind, fast forward, and pause live TV and FM radio on your Mac
Record hours of television and FM radio and edit out unwanted content
Create TV series subscriptions with Smart Guides
Organize recordings in Smart Playlists
Export recordings automatically to your iPod, iPhone or Apple TV
Access recordings via Wi-Fi and share with other Macs on a local network
Watch live tv on iPhone over Wi-Fi or 3G
Includes  an EyeTV Remote, which I by the way will comment on later on.
Product site: Elgato EyeTV Hybrid
Additionally I can recommend a couple of application to make the experience of the Elgato EyeTV Hybrid even better.
Remote Buddy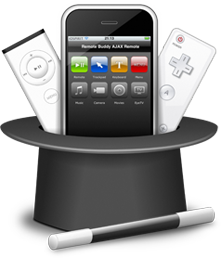 A powerful remote control solution for the Mac, that lets you control the EyeTV, any many other applications with Apple Remote, iPhone, or iPod Touch. With this application you can put the EyeTV Remote in the drawer, and only use the Apple Remote or iPhone as remote.
Product site: Remote Buddy
Aurora
Aurora lets you wake up your Mac in the morning or any other time, and fortunately it has support for EyeTV. Aurora can play both EyeTV TV and radio channels, this is quite nice if you like to wake up to some morning news or like as I do.
Product site: Aurora
XBMC or Plex (build on XBMC) is only related to the EyeTV in sense of making your Mac a better media center. They both have a visually appealing user interface that provides instant access to your media. They can play a wide range of video, audio and photo formats as well as online streaming audio and video. The real power of these applications are found in its library features, I especially like that it can automatically retrieve movie metadata from IMDb; imagery, description, rating etc. Whether to select XBMC or Plex might be a subjective matter.