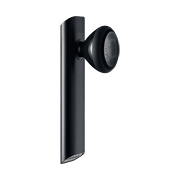 After I bought my Apple iPhone Bluetooth Headset for my iPhone a thought came to my mind, namely, whether it was possible to pair the headset with my MacBook and using it together with e.g. Skype.
Pairing the iPhone headset with the MacBook can be done seamlessly, just go to the Bluetooth in the menu bar, select "Set up Bluetooth Device…" and choose "Headset", then press and hold the headset button for about eight seconds, until you hear the startup tone and then five quick high beeps. The headset is now discoverable and will remain so for about five minutes. The status light blinks green while the headset is discoverable.
Unfortunately, I believe that the audio quality over Bluetooth is quite unsatisfying, it seems to be poor and a bit crackly. Therefore it is kind of tricky to recommend using the Apple iPhone Bluetooth Headset for that purpose.