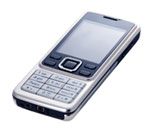 Here is a brief introduction on how to setup a GPRS internet connection on the Nokia 6300 via bluetooth (or another nokia phone for the matter).
Follow the steps bellow, and it might just work out for you.
First of all you must have a working GPRS configuration on the phone from your network operator. My danish operator allows me to order the configuration for the Nokia 6300 from their website, then it is sent directly to the phone, where it is saved.
Enable bluetooth on the phone.
Open Bluetooth Setup Assistant on your Mac.
Press Continue.
Choose Mobile phone and press Continue.
When your Mac has found your phone, choose it and press Continue.
When your Mac has gathered information about your device press Continue.

[ad code=1 align=left]

To allow bluetooth connection, you are given a random passkey to enter on the phone to accept the connection between the computer and the phone.
Check the Access the internet with your phone's data connection option and choose Use direct, higher speed connection to reach your Internet service Provider (GPRS, 1xRTT), and press Continue.
For my phone network operator I do not need to fill ind the username and password, but the field GPRS CID String must be given a value according to GPRS configuration on the phone, I used *99***1#, as Modem Script the standard Nokia Infrared works.
Now the setup is finished, and it should be possible to connect to the internet through the phone.
Click on the bluetooth icon in the menu bar, and select Join Network on your-phone, and you should be happy surfing through a very slow internet connection.