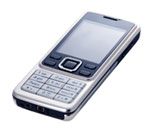 — UPDATE —
— UPDATE —

The Nokia 6300 do not appear in the list of supported phones for the iSync application in Mac OS X. Nokia has neither made a plug-in available yet, but it is possible relatively easy to make the iSync work. Here is at short guide to make it work:
Make sure iSync is not running.
Locate the iSync application in the Applications folder, and select Show Package Contents.
Locate the MetaClasses.plist file at this path: Contents > PlugIns > ApplePhoneConduit.syncdevice > Contents > PlugIns > PhoneModelsSync.phoneplugin > Contents > Resources.
Back-up the MetaClasses.plist file just to be safe.
Open MetaClasses.plist with a ordinary text editor, e.g. TextMate.
The trick is to find a phone in the XML list with the same operating system as the Nokia 6300 phone, which is the Nokia Series 40, 3rd edition, with Bluetooth and USB. The Nokia 6280 fits this requirement, and the below XML is a copy of the 6280 XML entry with changes to fit the 6300, which should be inserted below the 6280 entry.[ad code=1 align=left]


com.nokia.6300

	Identification
	
		com.apple.cgmi+cgmm
		Nokia+Nokia 6300
		com.apple.gmi+gmm
		Nokia+Nokia 6300
		com.apple.usb.vendorid-modelid
		0x0421/0x045A
	
	InheritsFrom
	
		family.com.nokia.series40.3rdEd.bus.usb-bt
	
	Services
	
		
			ServiceName
			com.apple.model
			ServiceProperties
			
				ModelIcon
				NOK6300.tiff
				ModelName
				6300
			
		
		
			ServiceName
			com.apple.synchro
			ServiceProperties
			
				MaxCityLength
				50
				MaxEMailLength
				60
				MaxEventLocationLength
				150
				MaxPhoneNumberLength
				48
				MaxPostalCodeLength
				50
				MaxStateLength
				50
				MaxStreetLength
				50
				MaxURLLength
				60
			
		
	



Alternative: Copy the 6300 XML from this link

If the USB connection is to be used for the iSync with the Nokia 6300, e.g. if you do not have a bluetooth device on the computer, then change the com.apple.usb.vendorid-modelid XML setting from 0x0421/0x045A to 0x0421/0x04F9

Add this phone icon NOK6300.tiff in the same folder as the MetaClasses.plist file. It is important that the file name matches the one in the XML definition.
Now it should work… Save and close the MetaClasses.plist file and start up iSync. Make sure that Bluetooth is enabled on your phone. Select Add Device… from the iSync Devices menu. iSync should find your Nokia 6300, and display the icon that you just added.
Additional notes:
– When to the bluetooth connection is setup properly, it's also easy to put music on the phone. Just select Browse Device… in the dropdown under the bluetooth icon in the menu bar, and browse to memory card and drop your music.
– If you are having trouble connecting to the internet via bluetooth using the phone, take a look at this post.
– Nokia has also posted some information about how to connect your Nokia phone to a Mac, and setup iSync. More here…
– The approach is tested and working with the Nokia 5300 with USB connection, view these comments here and here.